The Axarquía

The Axarquia is a region of the province of Malaga with an exciting history, unique cultural heritage and dreamlike landscapes. From the fisherman villages of the Eastern Costa del Sol to the whitewashed villages in the mountains, this land is an interesting compendium of tradition, legends, art and nature.

Here you can be swimming in early spring and late autumn, sitting or walking under marvellously clear blue skies during 320 days of the year. Above all, La Axarquía is a land of sun. It enjoys one of the warmest climates in all Europe (the temperature rarely drops below 10º C, even in January).
Located in the west of Malaga, the Axarquia extends to the limits with the province of Granada, where the Natural Park Sierra Tejeda Almijara is a border. This protected area is ideal for hiking, speleology or climbing under the eagles' flight or in the presence of mountain goats.
From the impressive geological formations of the environment stands out the peak of La Maroma, of 6,778 feet of altitude. Special mention should be made of the Cueva de Nerja, a subterranean cave full of stalactites, stalagmites and huge columns.
When you choose to spend a villa holiday at 'Casa Las Jaras' you can find a surprising number of charming sleepy villages within easy reach, just waiting to be explored. Here is a quick run through of just some of them:
Salares
Salares is one of the best-preserved villages in Malaga province. This is a very peaceful village of 150 inhabitants situated in the Axarquia region, on the "Route of the Mudejar". Its most beautiful feature is the minaret tower of Saint Ann's Church (formerly a mosque), declared National Historical Monument in 1979. The village is characterised by its whitewashed houses of typically Moorish design and for its steep and winding streets.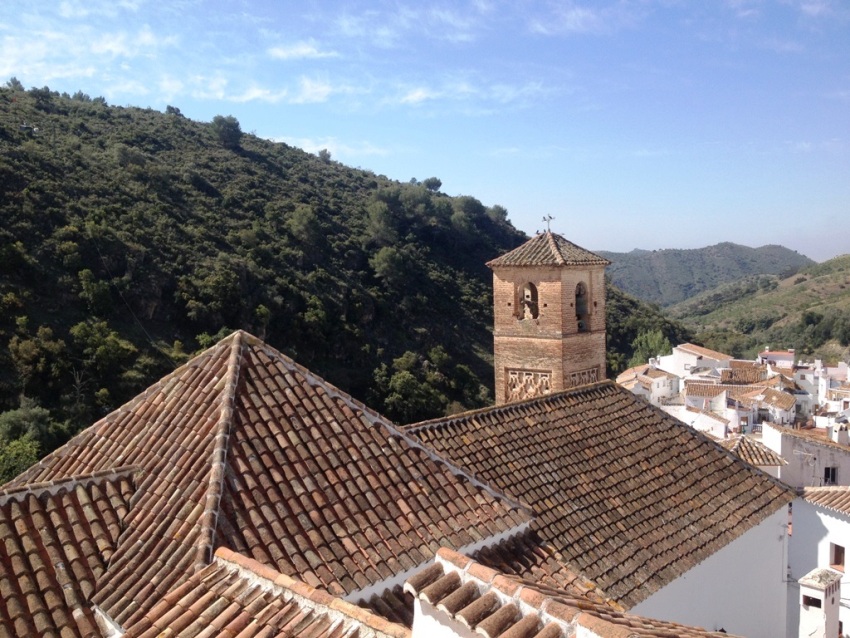 Archez
Archez is an attractive village with strong Moorish roots. This influence is most in evidence at the church of Nuestra Senora de la Encarnacion with its remarkable fourteenth century tower which is the minaret of an earlier mosque. A stroll through the village's narrow streets reveal a number of architectural styles, some houses featuring sloping roofs while others have terraces, the latter being of more recent construction.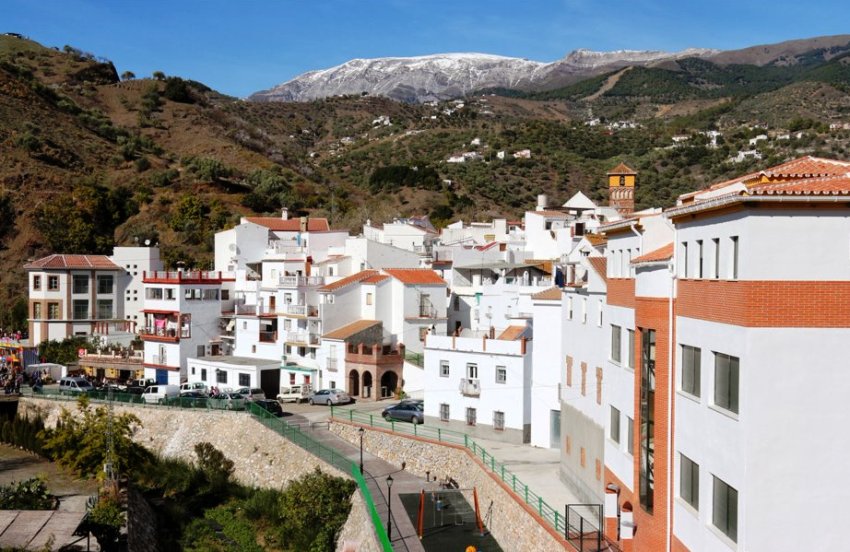 Canillas de Albaida
Canillas de Albaida is a small inland town that started out as an arab village in the 13th century. It was named "Albaida", which meant "white", because, according to legend, it was surrounded by an abundance of white flowers. The village is typically Arab in design and layout, with narrow, windy streets and squares. At the top of the village (some of the side streets are almost vertical!) is the Ermita de Santa Ana, well worth the walk for the fabulous view.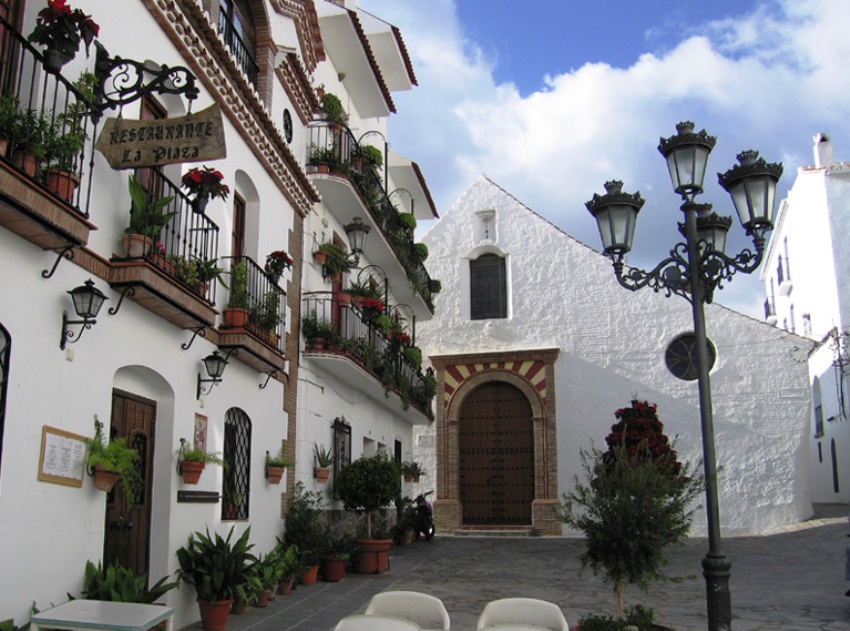 Competa
Competa is well known for its locally produced wine, available both dry and sweet. One of the most popular annual fiestas here is the Night of the Wine on the 15th August which features a programme of flamenco and sevillana music and dance. It is a charming flower bedecked old town with its main centre, the Plaza Almijara, dominated by a magnificent sixteenth century church. This bustling square is one of the best places to enjoy a break with a choice of bars and restaurants.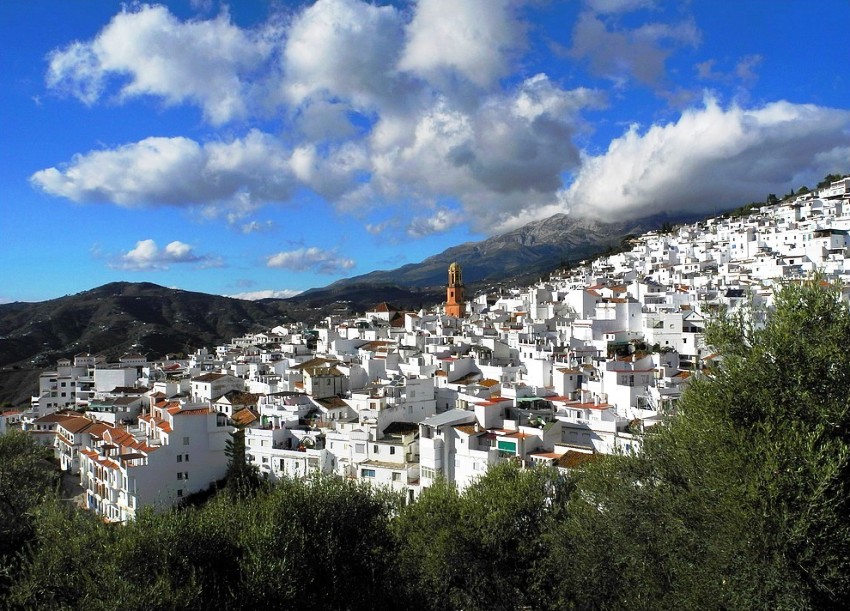 Coastal Resorts
Torre del Mar
Torre del Mar is situated on the coast at 28 kilometres to the east of Malaga, and has a population of 20,000. There are wide sandy beaches flanked by a long beachfront promenade. Torre del Mar has a lot of atmosphere and local flavour with numerous shops and restaurants (including some very good fish and seadfood restaurants). Torre del Mar is in a completely flat area which makes getting around very easy.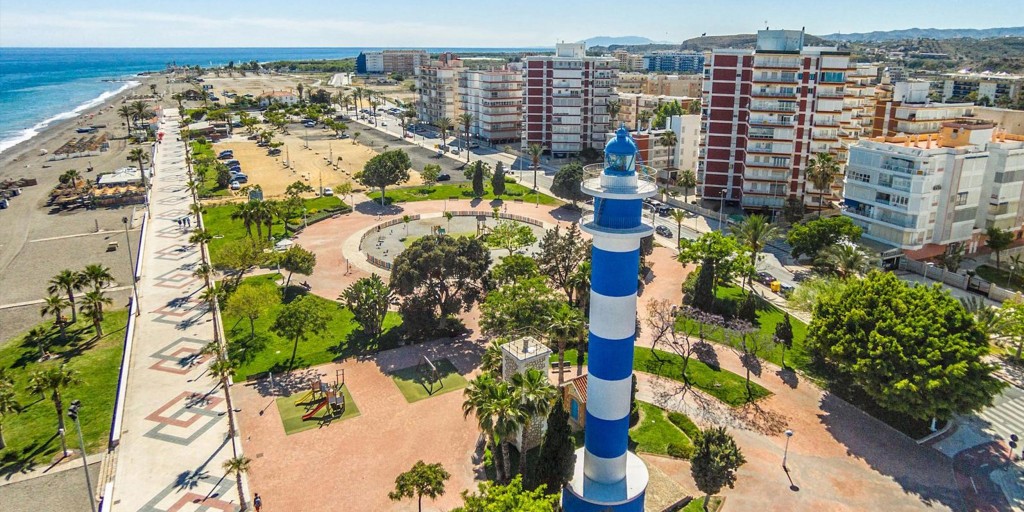 Waterpark Aquavelis
Located nearby Torre Del Mar, Aqua Velis is the largest park of its kind in The Axarquia and has over 20 different rides: superfast slides, inflatable ring rides and two large pools one with a wave machine. The park is open 7 days a week from mid June to Mid September. http://www.aquavelis.es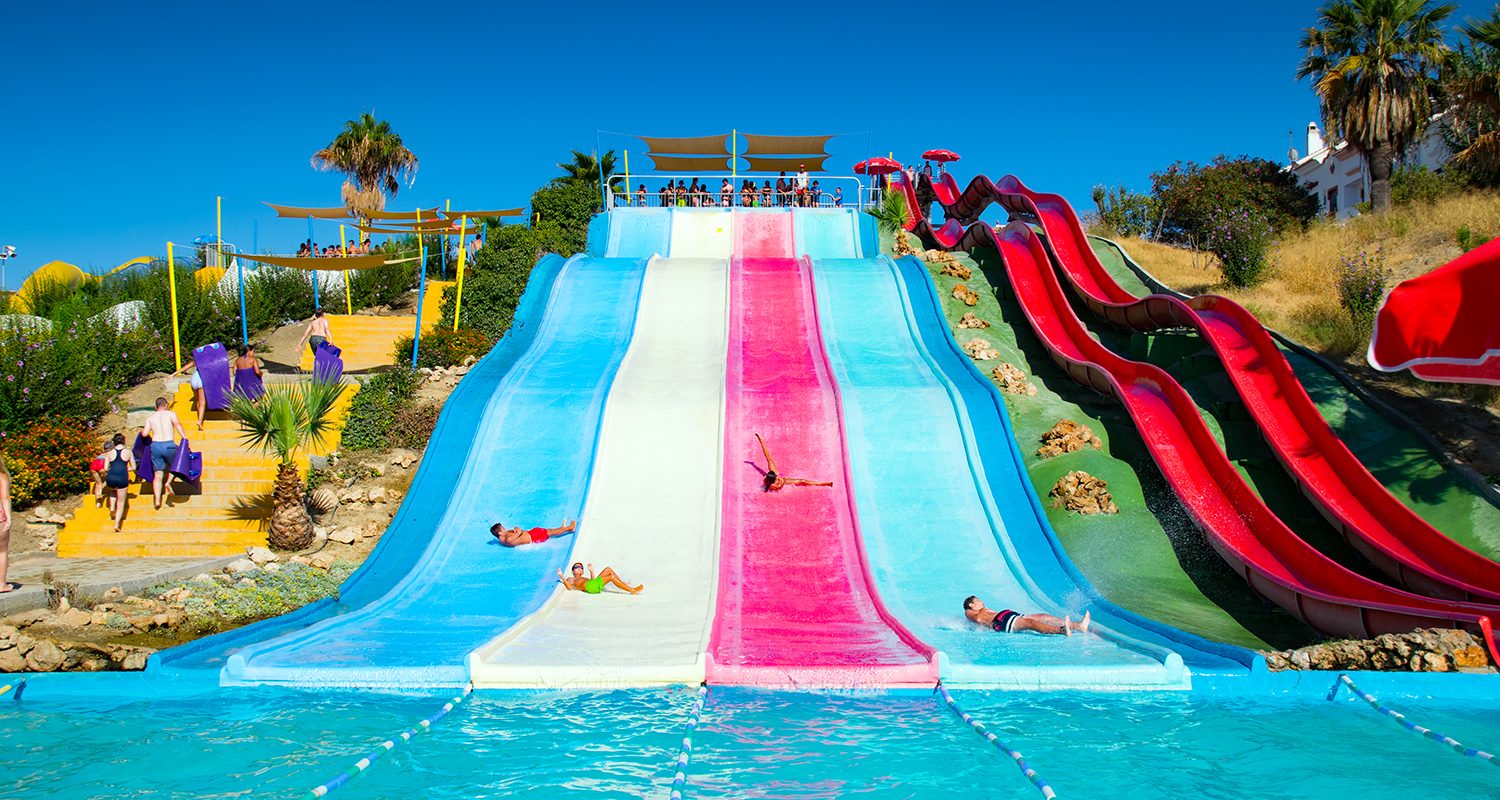 Velez-Malaga
Velez-Malaga, known locally just as Velez, is situated 4 kilometres inland Torre del Mar. It is the centre and capital of The Axarquia, with a population of 73,000. Despite its proximity to the coast it has not developed a tourist industry. For the history buffs out there, La Fortaleza is bound to inspire. Built in the 13th century, this monumental castle is perched high above the city providing breathtaking panoramic views of Velez Malaga and the Torre del Mar area. Once used as a royal residence, jail and courthouse, La Fortaleza is steeped in history.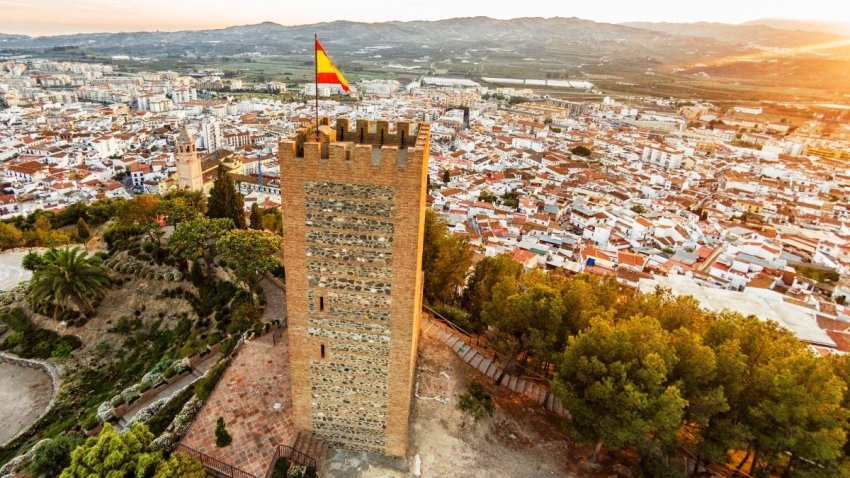 Nerja
Nerja is on the seashore some 50 kilometres from Málaga. Once a sleepy fishing village, the town now has a population of over 22,000. Nerja boasts plenty of beaches with powdery sand and sparkling clear water. All major water sports are available here, including water skiing, scuba diving and sailing. The heart of Nerja is its spectacular Balcón de Europa, a magnificent promenade with sweeping panoramic views of the Mediterranean and beaches below.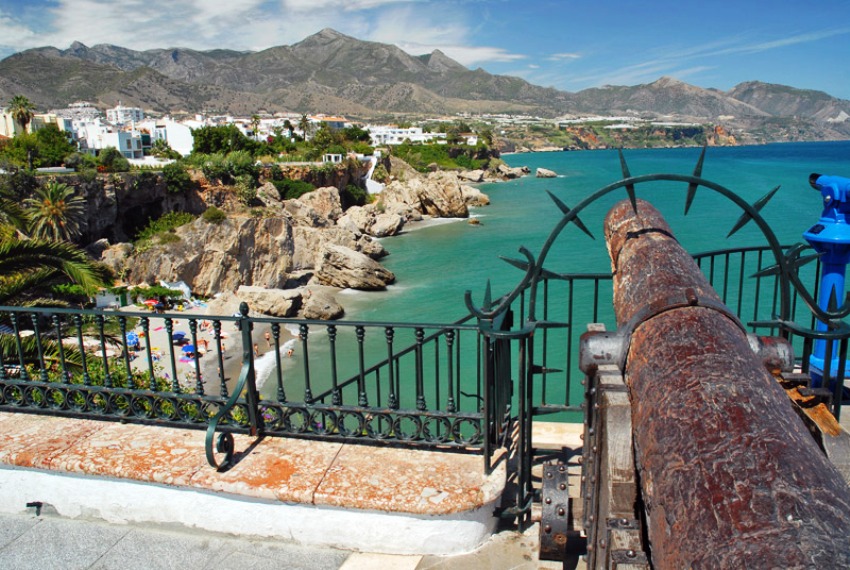 Nerja Caves
Nerja's most spectacular attraction is undoubtedly its fascinating caves. They include archaeological treasures such as paintings over 20,000 years old and other pre-historic remains. One of the enormous natural caverns has been transformed into a concert hall, where many performances are staged during the summer. http://www.thenerjacaves.com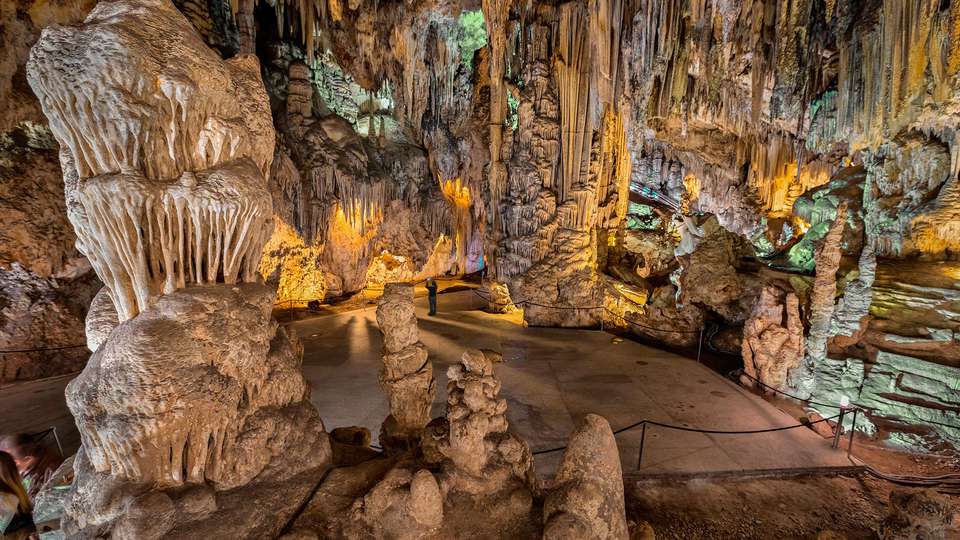 Málaga

Malaga City
Declared as one of the oldest cities in the world, the city of Malaga enjoys a rich traditional and cultural heritage. The city was founded in 770 BC by the Phoenicians, and has seen numerous civilizations such as Arabic, Roman, Christian, etc. Malaga is located between two river valleys, Guadalhorce and Guadalmina, which has resulted into a pleasant climate throughout the year.
Malaga is a city that is full of charm and character. It is the 2nd most populous city in Andalucía, the 6th in Spain and more importantly, a major tourist destination. This birthplace of Picasso is also famous for rich architectural history, delicious Mediterranean cuisine, local wines and sandy beaches.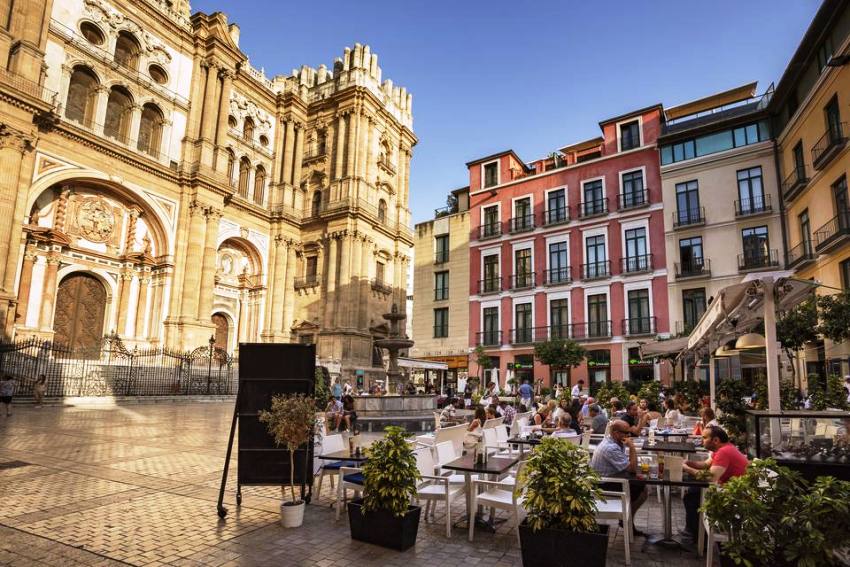 Picasso Museum
This is one of the best museums to get an overview of all the Malaga-born artist's styles from adolescence to his last days. All the works were donated by the Picasso family and the permanent works are complemented with excellent temporary exhibitions. Tours are available in English. The 15th-century palace also houses Roman and Moorish remains. http://www.museopicassomalaga.org/en/
Museo Carmen Thyssen Malaga
Over 200 works, mainly Spanish paintings from the 19th century, from the Baroness Thyssen's private collection are on show in this restored Baroque palace. Temporary exhibitions are worth visiting too as they often include paintings by the world's masters. https://www.carmenthyssenmalaga.org/en/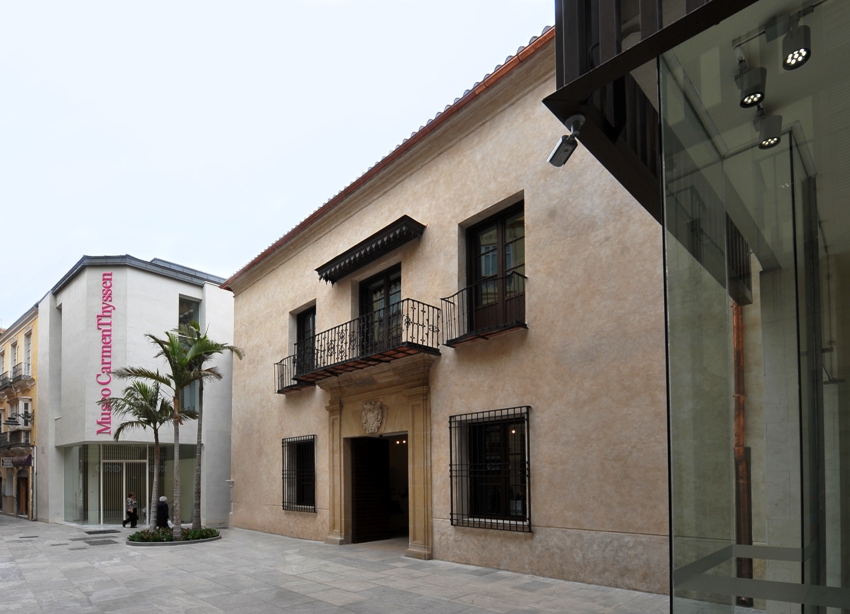 Modern Art Museum
The Contemporary Art Centre (CAC) housed in a 1940's market where the permanent and temporary exhibitions showcase the latest trends in modern art. Entry is free and guided tours are available in English. http://cacmalaga.org
Indoor Market 'Mercado de Atarazanas'
Malaga's largest and most colourful market, is the Mercado de Atarazanas, whose recently restored building contains the original 14th-century Moorish gateway plus some stunning stained glass windows. Take your time to browse the stalls for fresh local produce.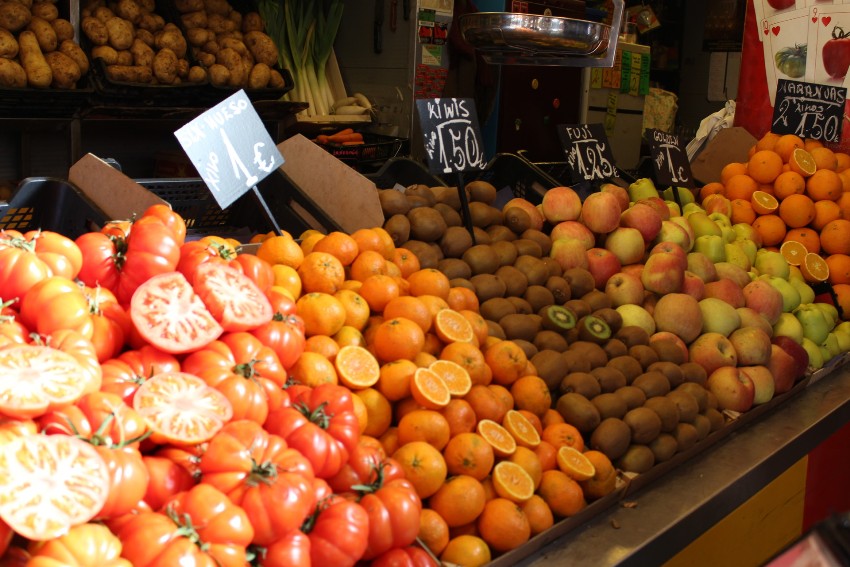 Calle Larios
Malaga's most famous street, the pedestrianised Calle Larios, which is also its busiest and has become the vibrant central spine of the city. Some sort of cultural display usually lines this pedestrian street and musicians, magicians and human statues always provide entertainment. Admire the 19th-century architecture as you make your way to the Plaza de la Constitucion square at the top.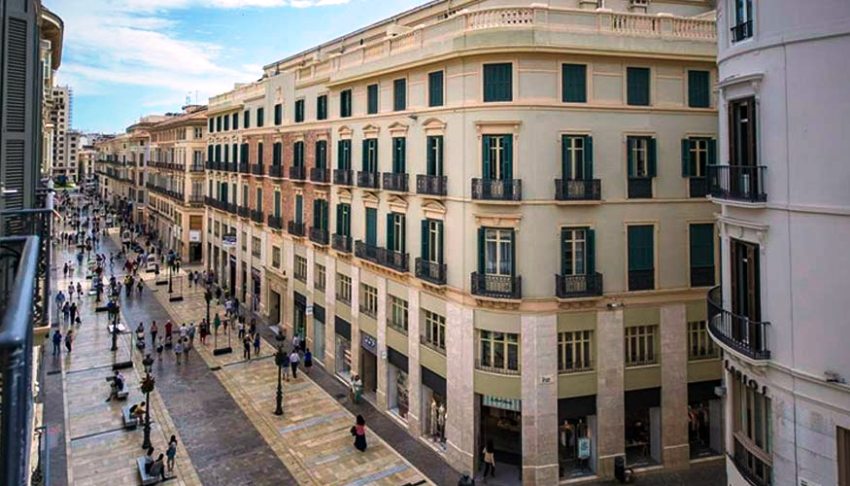 Romans Theatre
Take a stroll round Malaga's best-preserved and largest Roman monument, the Theatre, now restored to its former glory. From here, visit the Alcazaba fortress, not in the same league as the Alhambra in Granada, but the ruins give you an excellent idea of an 11th-century Moorish palace and there are lovely views over Malaga.

The cathedral
Malaga's cathedral was built between 1528 and 1782 on or near the site of a former mosque. While original plans had allowed for two towers, both lack of funds those donated to American Independence resulted in the completion of only one, giving rise to the name by which the cathedral is affectionately referred to, La Manquita, loosely interpreted as "one armed woman".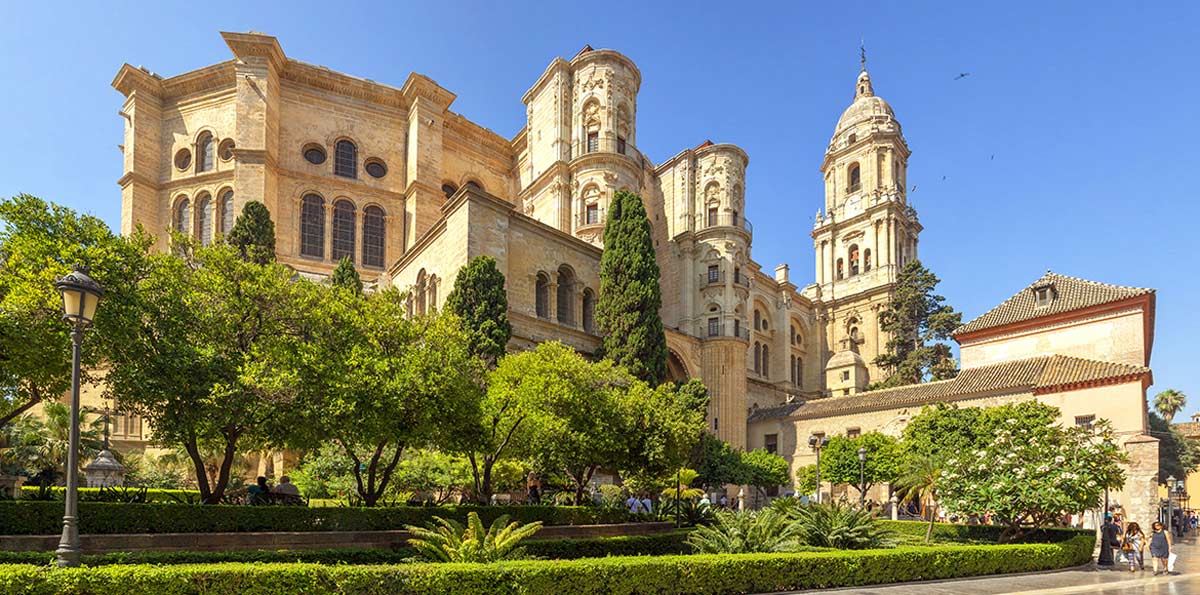 Gibralfaro
If you're feeling energetic, walk up the (very) steep pathway to this Moorish castle perched over Malaga's old quarter. If not, take the tour bus or a taxi. Admire the magnificent view over Malaga and the Mediterranean.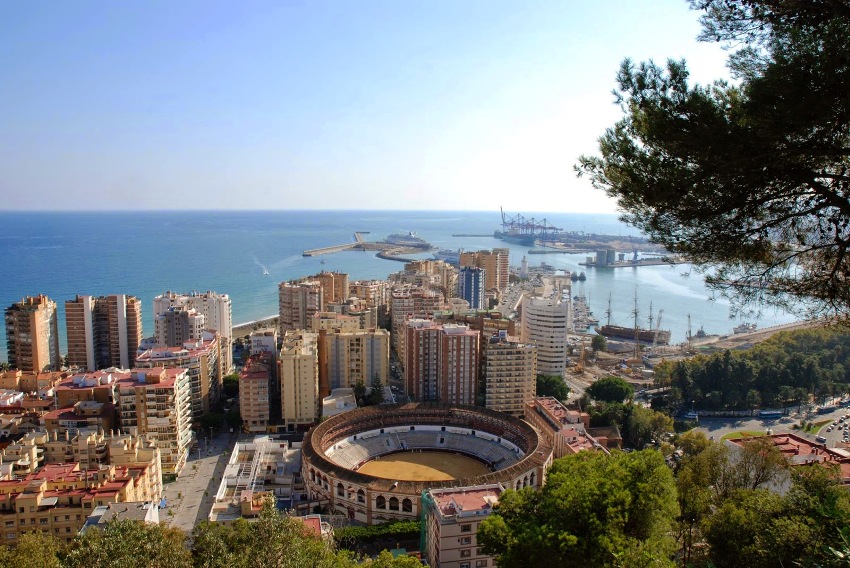 Muelle Uno
Muelle Uno offers some of the best panoramic views of Málaga's monuments. Lying next to the Port of Málaga, this open-air shopping centre has a large number of shops and restaurants, which makes it ideal for a shopping spree followed by local cuisine in a unique setting overlooking the sea. At Muelle Uno you can buy shoes, clothes, jewellery, home décor items… And you can have all types of food at its multiple eateries. Since it first opened in late 2011, Muelle Open has been an essential part of the cultural life of the city, playing host to arts and crafts markets, art exhibitions, concerts, films in the open air, and many other activities. Thus, it has become one of the most popular entertainment and leisure centres in Málaga.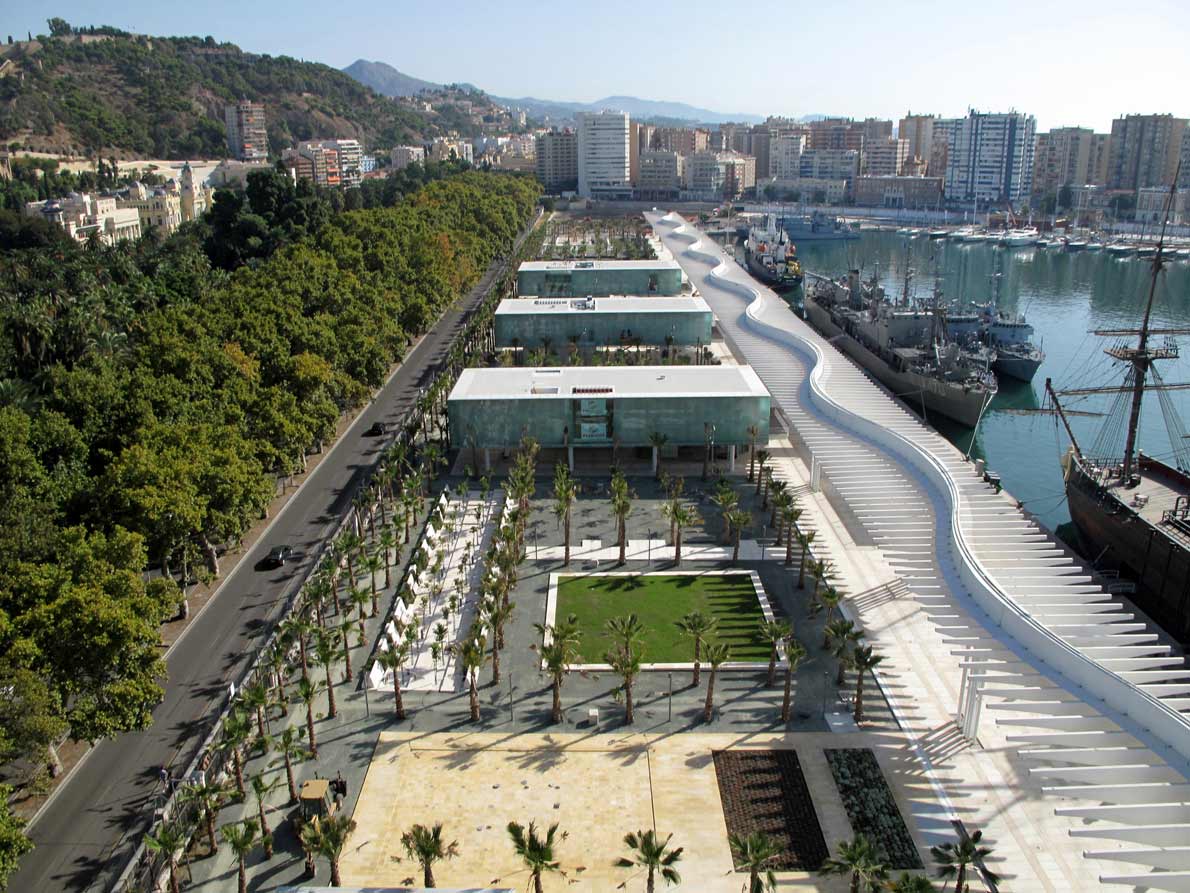 Centre Pompidou
The Centre Pompidou Málaga is the first branch of the Centre Georges Pompidou out of France. Being one of the leading art centres in the world, . Showing a selection of 90 works from the collection of the Centre Georges Pompidou in Paris, it takes visitors on a trip through twentieth- and twenty-first-century art. Artists include Pablo Picasso, Frida Kahlo, Constantin Brancusi, Antoni Tàpies and Orlan, among others. http://centrepompidou-malaga.eu/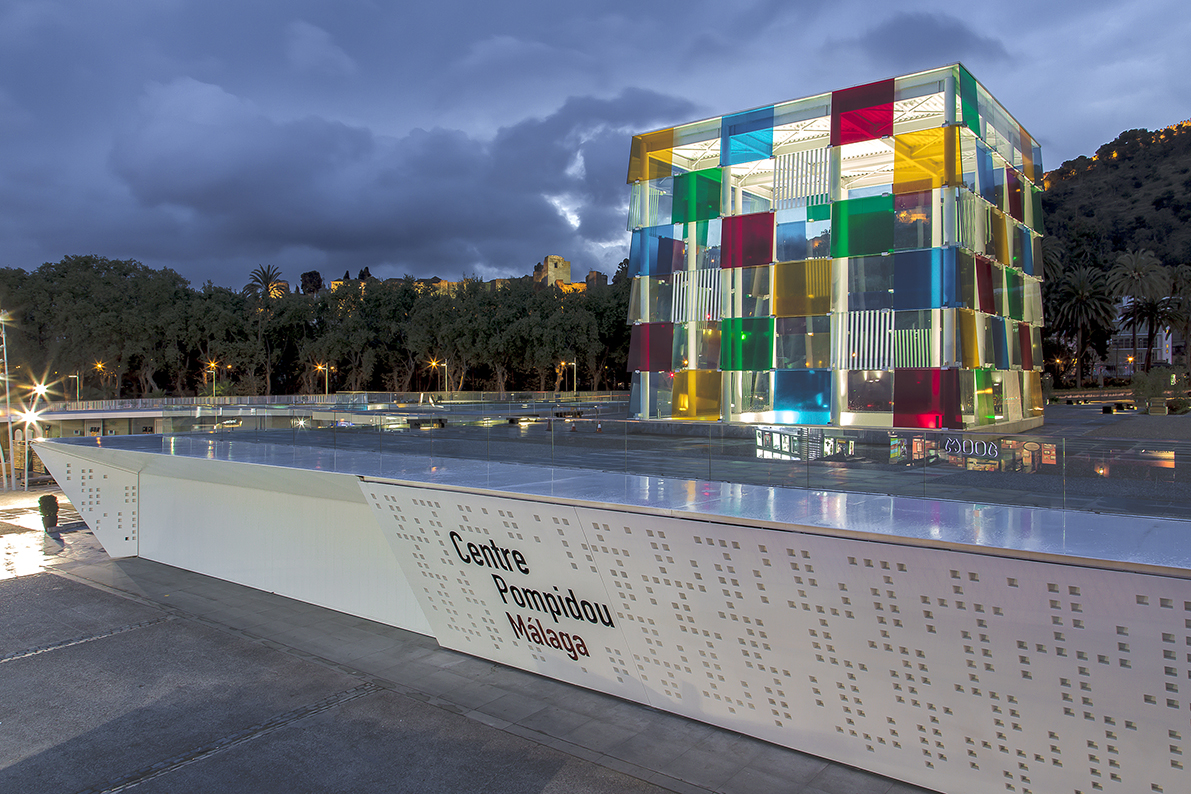 Finca de la Concepcion Gardens
La Concepcion Historical-Botanical Gardens -created in 1855- belong to the "City of Malaga" Municipal Botanical Trust. They are home to an exquisite open-air collection of tropical and subtropical flora. Plant species from Europe, America, Asia, Africa and Oceania are all on show here. Officially declared historical-artistic gardens in 1943, they are now also recognised as an Item of Cultural Interest. http://laconcepcion.malaga.eu

El Torcal - Antequera
The El Torcal Nature Reserve is the most impressive & beautiful karstic landscape in Europe. Its fantasy-like rock formations cover an area of 12 square kilometres. This impressive limestone complex was thrust upward from the bed of the sea about 150 million years ago as the result of geological folding.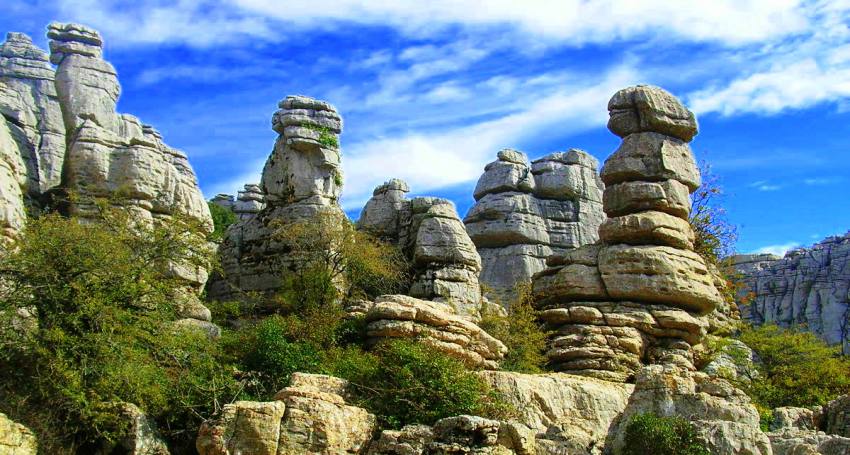 Ronda
The village of Ronda is one of the most visited places in Andalucia. It is famous all over the world for being perched on the edge of the El Tajo gorge and offers fabulous views and countless photo opportunities. Ronda is accessible by road and rail, the drive to the village from the coast or from further inland is quite spectacular.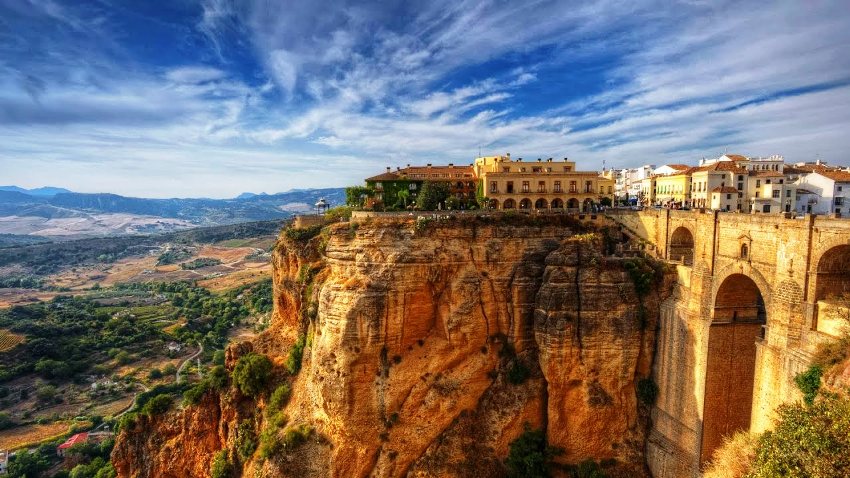 El caminito del Rey
Until recently, this almost 8-kilometre path near Malaga (Andalusia) was considered to be one of the most dangerous in the world. Today the entire route has been carefully restored, earning it the Europa Nostra Award for heritage conservation, and although it's now much safer, one thing hasn't changed - the unique experience of strolling along walkways hanging over 100 metres up on a sheer cliff face. Take one of the best selfies ever. You'll never forget the views!. http://www.caminitodelrey.info/en/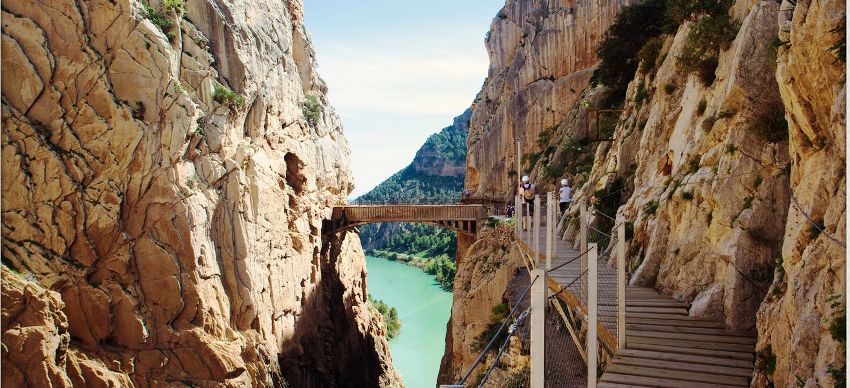 Tivoli World
This amusement and theme park on the Costa del Sol is in Benalmadena. It was inaugurated in 1972, and over the years new rides and attractions have been added. You will enjoy the new exciting rides and a lot of shows at the different squares, tasting all the gastronomic options in the thematic bars and restaurants, while enjoying the park's holiday atmosphere. http://www.tivoli.es
Bioparc Fuengirola
What Bioparc Fuengirola represents is a different concept of zoo. A zoological park where animals live side-by-side, recreating their natural habitat and sofostering their development at all levels. Visitors are stepping inside a true documentary of the deepest tropical woodlands. There is today no ethical sense in keeping wild animals in captivity unless this helps to preserve theirs species in the natural world. http://www.bioparcfuengirola.es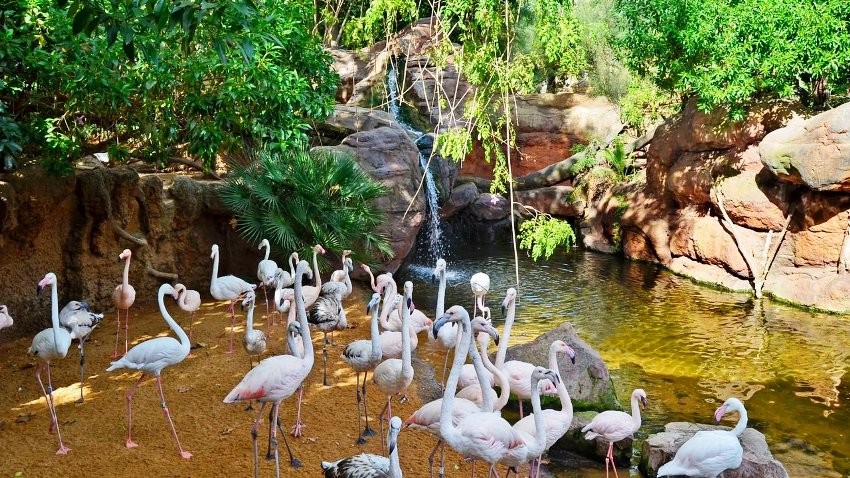 Selwo Adventure Park
Selwo Aventura is a safari park located at the entrance of Estepona, just 15 minutes away from Marbella. This wildlife adventure park of one million square meters offers its visitors the chance to see over 2000 animals from every continent roaming in semi-free conditions. Selwo Aventura offers the opportunity to live a real adventure in natural surroundings. http://www.selwo.es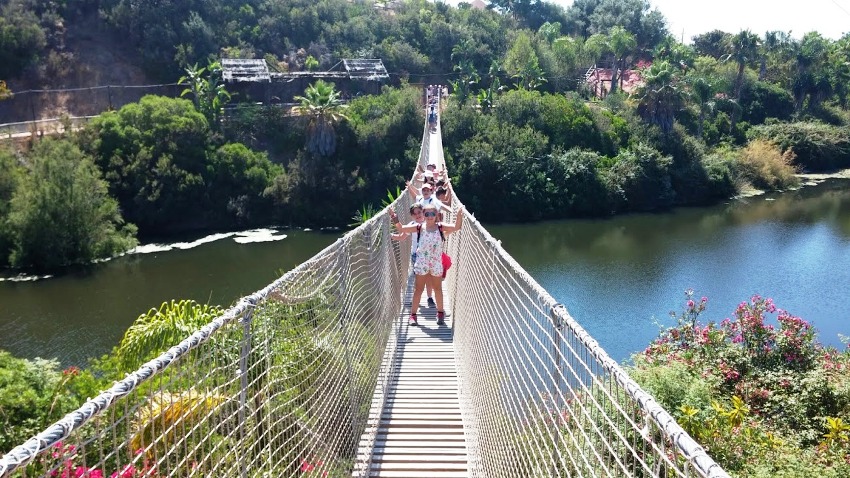 Sea Life
Benalmadena's Sea Life Centre is the first interactive underwater park in Costa del Sol, which takes you on an amazing walk along bottom of the sea. Enjoy an unforgettable experience for the whole family as you explore the wonderful sea creatures of the marine world at Sea Life, Benalmadena. Discover the kingdom of the seahorses and enjoy our colourful tropical fish, and come face to face with more than 20 species of sharks from around the world. https://www.visitsealife.com/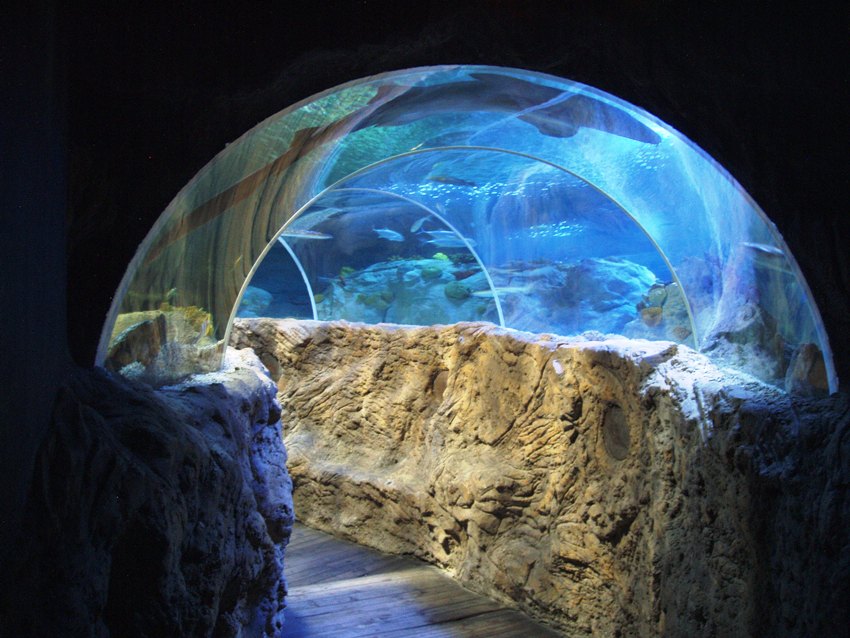 Granada
The Alhambra Palace (Granada)
The Alhambra Palace was one of the greatest architectural wonders of the world when it was created in the 13th and 14th centuries.... and it remains so today. It was the last and most splendid of all the Arabian palaces to be built in Spain during 700 years of Moorish domination. The Moors were vastly superior to their European enemies in all areas of culture and the Alhambra Palace became a glorious symbol of not only their wealth and power but also their unsurpassable artistic and architectural skills. http://www.alhambradegranada.org/en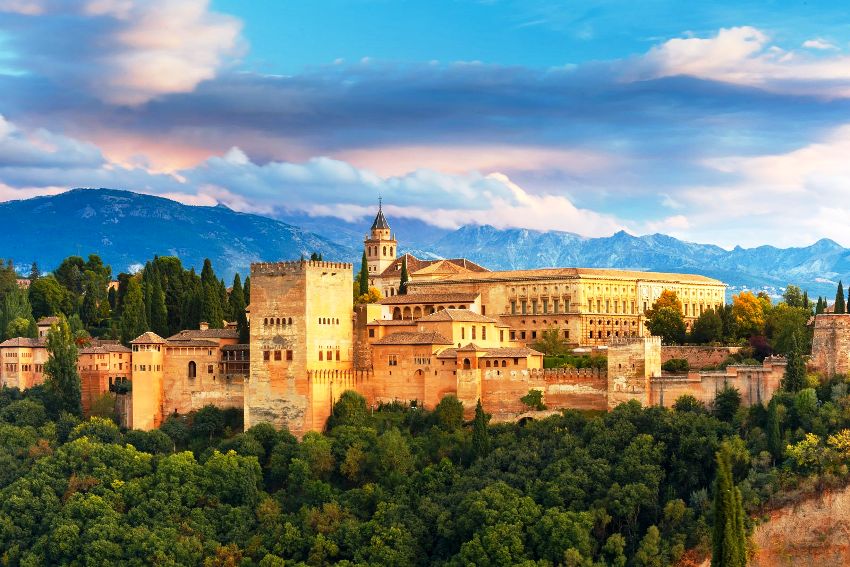 Parque de las Ciencias (Granada)
The Parque de las Ciencias (Science Museum) in Granada has over 270 interactive activities spread out among two exhibition buildings and other areas such as the Planetarium, the Tropical Butterfly House, the Observation Tower or the Astronomy Garden. They all help you to discover and understand certain scientific principles and phenomena. It is an ideal place to take the children for fun and learning day out. http://www.parqueciencias.com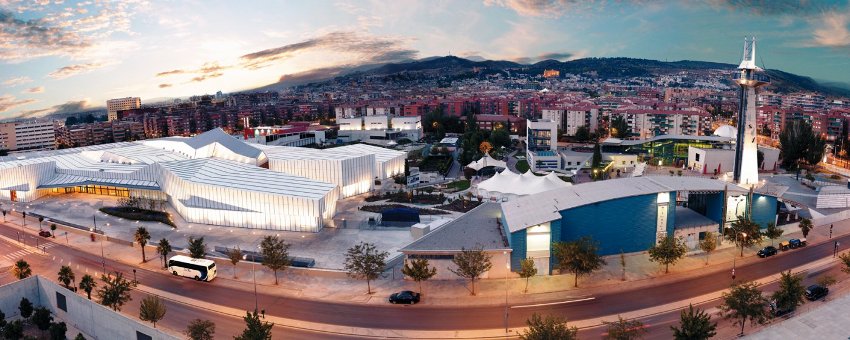 I could write pages and pages on the location & attractions of the area, but I think that this is something you definitely must discover for yourself!.